Flood October 2022
Our hall was inundated by the recent floods.
We are unable to take bookings at this time.
---
Trying to find a great venue for a function in the Ascot Vale / Moonee Ponds / Maribyrong area? Our Scout hall is suitable for functions, meetings and workshops for up to 100 people. Just a stone's throw from the Maribyrnong River, in parkland, it is conveniently located near the 57 and 82 Tram with plenty of on-site parking available.
Hiring our Hall out to the public is a major part of our fundraising efforts every year. Our Scout Group is self funding for usual operational expenses and is totally run by volunteers.
The Scout Group uses the funds to assist in training our youth into confident, resilient, leaders of tomorrow through fun activities.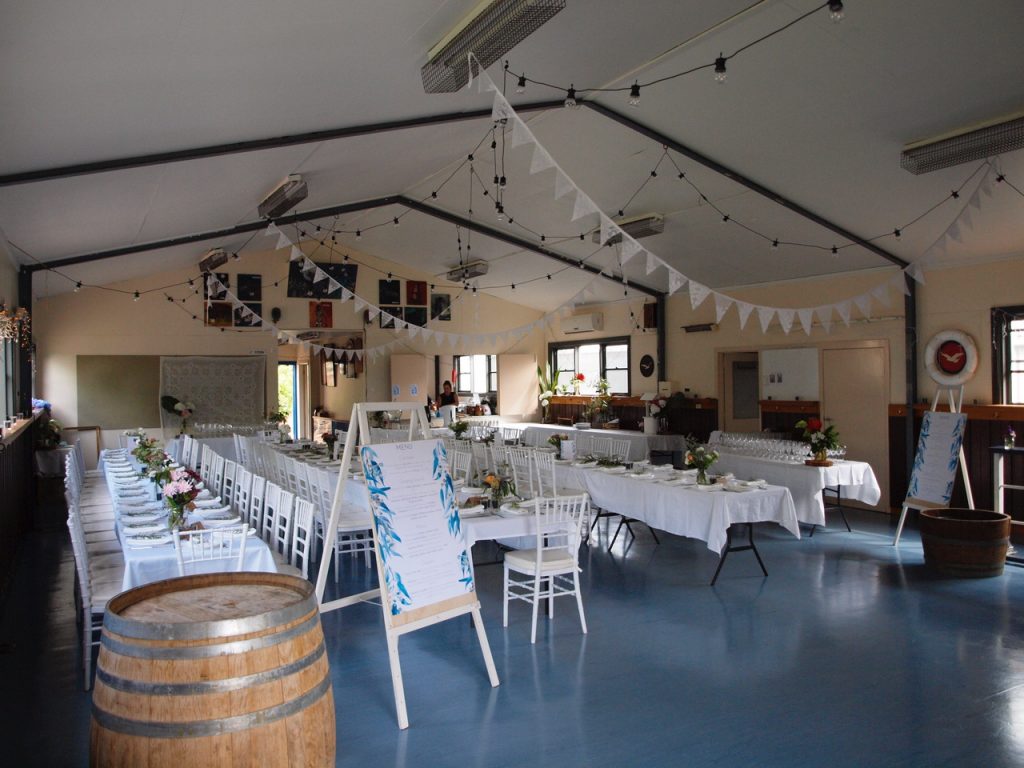 ---
Hall Features
Location
We are situated along the Maribyrnong River edge with a lovely grassed area on the river bank, right at our door. The grassed area is not bookable as it is Council land, so there may be other users of the area too. Our proximity to Fairbairn Park offers use of the park land including Council Play ground as part of your event.
Capacity, Tables and chairs
The hall inside measures 14.7 x 9 metres.
Will hold up to 100 people.
14 plastic trestle tables that seat 8-10 people each.
Approximately 100 chairs.
Kitchen
Large domestic kitchen.
8 litre urn for boiling water to make tea & coffee.
Domestic hotplate and 2 ovens (electric, 750mm wide).
2 Microwaves.
Refrigerator with freezer.
BYO cutlery and crockery.
BYO cleaning cloths and tea towels.
WC
Male and female toilets located inside the hall.
There is a shower cubicle in each.
Technology
The hall has a projection screen but no projector.
No PA or sound system.
Heating/cooling
Split-system reverse cycle air conditioner.
4 bar heaters on the wall.
Accessibility
Carpark-side entry is wheelchair accessible [double doors with a 20mm ramp].
All floor space is at one level.
Toilet facilities are too tight for wheelchair access.
---
When is the hall available?
Friday 3pm – midnight.
Saturday 12:30pm – Sunday 1am [during school term].
Saturday 8am – Sunday 1am [during school holidays].
Sunday 8am – Monday 1am.
Public Holidays 8am – 1am.
Unavailable on Tuesday / Thursday / Friday / Saturday mornings during school term.
Unavailable on Tuesday afternoons during school term.
Unavailable on Tuesday / Wednesday / Thursday evenings during school term .
Other times are available casual or regular bookings.
---
What are the booking terms?
Cost
$400 per day on Fridays, Saturdays, Sundays and Public Holidays.
$30 per hour for regular ongoing hires, for a period in the day.
Bond
$500 bond which is refunded if the hall is left in a clean state and there is no damage.
$200 bond if you are a regular weekly hire.
Noise
The hall is adjacent to a residential area. All music and amplified sound must stop as shown below.
Extract from EPA Vic regarding Music and PA systems.

https://www.epa.vic.gov.au/for-community/environmental-information/noise/residential-noise/residential-noise-law#prohibited-times-for-noise


Section #5. Musical instruments.
Electric audio goods, including stereos, radios, TVs and public address systems.
>> Sunday, Monday to Thursday – not after 10 pm.
>> Friday, Saturday and public holidays – not after 11 pm.
Please respect our neighbours and comply with the EPA.
Expect the Police to arrive if you annoy the neighbours.
Cleaning
You are expected to clean before you leave.
There is usually no scope for coming back in the morning as there will be another hall hirer in by then.
We are cheap because we are not paying a cleaner to come in after you.
Please leave the hall (including kitchen and toilets) cleaner than you found it. This ensures we can continue to offer cheap hall hire.
We provide cleaning products.
There are brooms, mops and mop buckets.
Parties always have something spilt; please mop the floor after sweeping.
You will need more than one bucket of mop water, otherwise all you do is spread stickiness over the whole floor. Typically change the water in the bucket for each quarter of the floor area, and usually need to repeat with a second mopping.
Rubbish bags are provided for your use.
You must take all rubbish away with you as there is no provision for rubbish collection at the hall.
If we need to clean up after you, then you lose your bond.
Unacceptable events **
Teen, 18th and 21st birthday parties.
Schoolies celebrations.
Parties publicly advertised on social media / open invitation.
Parties with ticket sales at the door.
Retail entities.
** Speak to us if you are a Scouts Victoria Member.
---
How do I make a booking?
For more information; to see inside the hall to see if it is suitable for your needs; or to make a booking, please send us a message via the inquiry form below.
Bookings are not final until payment made and Hire Agreement form signed.
If you do not follow through in a timely manner, then we reserve the right to cancel your booking and take another booking.
Q: Is my date available?; Or any other question.
A: Send us an email via the inquiry form below.
Q: Can I change my booking date?
A: Send us an email (reply to the one we already sent you).
---
Payment arrangements
Q: When is the hire fee payable?
A: When you confirm your booking.
Q: How do I pay the hire fee?
A: All hire fee payments are via electronic funds transfer with a specific description/reference. Details will be provided.
Q: Can I pay by Credit/Debit Card or EFTPOS?
A: No. We do not have any provision for card payments.
Q: When do I pay the bond?
A: The bond is payable in cash when you pick up the key.
Q: When do I pick up the key?
A: In the week before your booking; typically, on a Tuesday @ 18:45, or by arrangement.
Q: How is the bond paid?
A: The bond paid in cash when the key is picked up.
Q: When is the bond returned?
A: The bond is returned in the week after your booking; when you return the key; typically, on a Tuesday @ 18:45, or by arrangement.
---
Find us
The address is 22 Woods St. Ascot Vale, Vic. 3032, at the Northern end of Fairbairn Park.
You will need to enter the Park opposite 27 Woods St. Ascot Vale and turn right to reach our hall by road.
Melways Map 28 C8 or search "15th Essendon Sea Scouts".
We are located here on Google Maps.
---
Inquiry Form