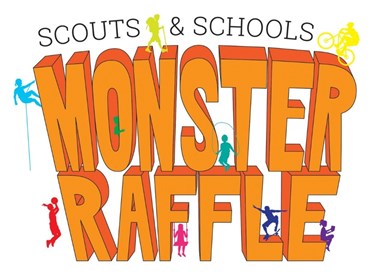 Prizes
There are more than 100 prizes in 2019, ranging from a Car, a Family holiday, Mountain Bikes, outdoor equipment or outdoor activities, Bluetooth Speakers, Headsets and Vouchers.
Why should you help our Group sell Monster Raffle tickets?
Scouts Victoria runs the Raffle and covers all the costs of Prizes and overhead. The Group gets to keep every single $ we collect. All proceeds go to the Group, allowing us to fund new equipment or maintain existing equipment and infrastructure. This directly benefits your children.
Tickets are $2 each. All families will be given 2 books of 10 tickets to sell.
You are asked to sell all the tickets allocated to you or if you prefer purchase them yourself.
If for some reason this is not possible, please advise the Group leader as soon as possible so that the Group is not liable for the unsold tickets.
All sold ticket butts, unsold tickets, and money must be returned by June 2019
(it is a Raffle's Board regulation that all monies/tickets must be accounted for).
Puckle St / Union Rd
This year we will be having a stall in Puckle St and/or Union Rd again. The stall is a great way for us to get exposure to new people. We always get new Cub and Scout inquiries and many of them turn in to new members. We also sell a lot of Raffle tickets.
Typically we have a number of Saturday mornings where in small groups, the Joeys, Cubs, Scouts and Venturers walk up and down the street selling Raffle tickets. The Cubs and Joeys do the best due to the 'aw' factor. Each group of children will include Scouts or Venturers with the Joeys or Cubs for supervision.
A few parents man the stall to supervise the table, sell to passers by and to refresh the Scouts with new tickets when they come back to the stall.
In due course a roster will be drawn up and sent out.
Draw Information
| | |
| --- | --- |
| 6 September | Raffle draw at Victorian Scout Centre at 11am |
| 16 September | Raffle results published on website and prizes distributed |
Winners will be contacted by phone